10 Office Interior Design Ideas for Your Corporate Fit Out Project
10 Office Interior Design Ideas for Your Corporate Fit Out Project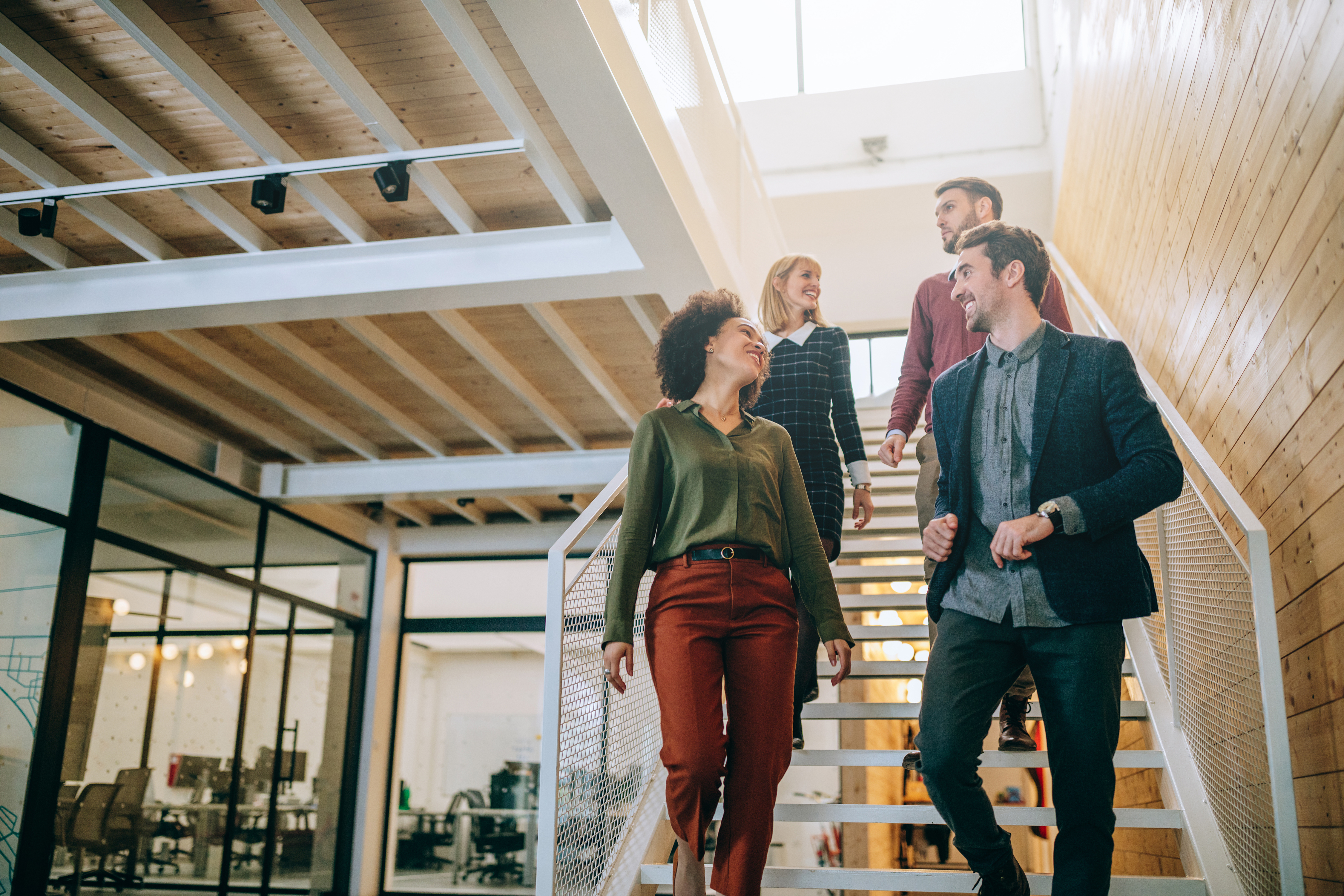 At some point in your office fit out journey, you'll find yourself crafting an interior design plan that's perfect for your workspace, business and employees. However, this feat is easier said than done.
To help you create and execute the best possible outcome, we've put together 10 corporate interior design ideas that you can incorporate in your fit out project.
1. Implement textured interiors
Mitigate stress and inspire creativity by incorporating art a texture into the walls of your office space. Research has shown that having art pieces in the workspace has a relaxing effect and boosts morale in employees.
2. Balance perfection with simplicity
The aim here is to have a simple corporate interior design but furnish the space to perfection. Add elements that provide comfort and privacy, as well as being functional. At the same time, the interior design should be simple yet aesthetically pleasing – not cluttered, over the top or distracting.
3. Use vibrant colours
Ditch the plain traditional colours commonly used in office décor of the past, and decorate your workplace with vibrant colours. Breaking away from the usual dull, boring look by including more lively colours will not only make your office look more energised, exuberant and attractive, but it will also have a positive effect on employees by boosting productivity, creativity and their overall mood.

4. Pay special attention to the conference room

The conference room is one of – if not the most – important spaces in an office. A lot of the urgent, high profile work and collaboration happens in the conference room, so you'll want to make sure it's a functional yet aesthetically pleasing space.

5. Experiment with shapes and materials

Innovation is the key to staying ahead of the curve and your competitors. One easy way to inspire innovation in your employees is to experiment with and incorporate different shapes and materials in your workplace to create a unique interior design idea that will inspire your employees to come up with their next great idea.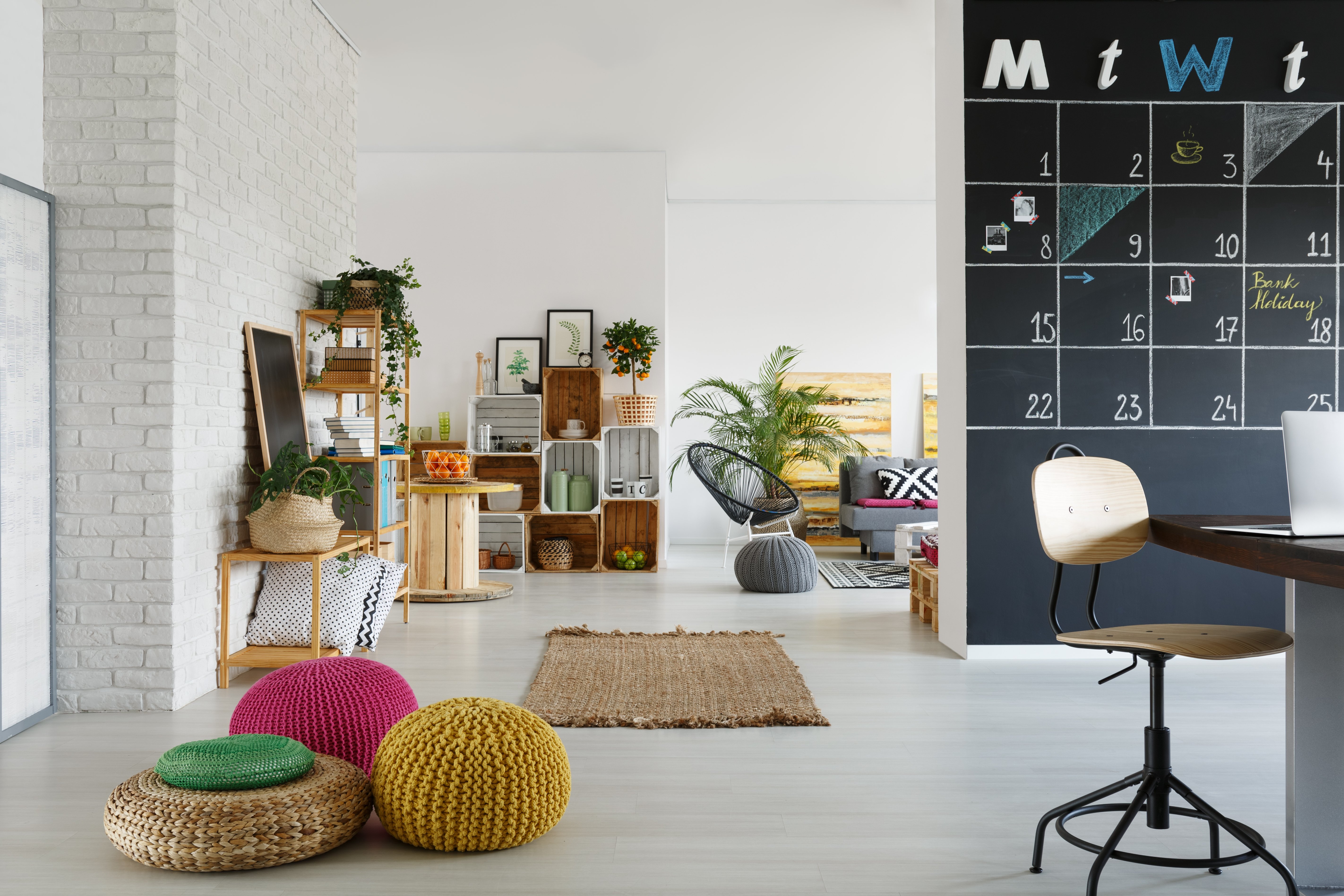 6. Modernise your office space

Offices have come a long way from the drab, dreary look of the past that were dominated by cubicles and plain traditional colours. Bring your workplace into the future by modernising the space with fancy ergonomic chairs, low desks, sleek tables and any other contemporary design features or elements. This will breathe new life into your office and make the space more fun and engaging for employees and clients alike.
7. Add natural elements
Introducing biophilic designs and elements in your office will not only liven the space up, but it has many benefits as well – including improving employee productivity, creativity, health and wellbeing. Adding natural elements like plants, living walls, windows that let in sunlight and fresh air, reclaimed wood panel installations and exposed concrete flooring will do wonders for your workplace.
8. Create flexible workspaces
Modern office designs are embracing multipurpose workspaces as the new normal. Gone are the days of small, stuffy cubicles and dull, cramp breakrooms being the staple of every workplace layout. Instead, spaces that can be utilised for everything from multimedia presentations to casual breakout areas are now a must-have in every office.
9. Provide designated lounge areas
Employees are most productive and creative when they feel comfortable and at ease. Traditional offices were known for being uptight and stuffy. However, modern office designs allow employees more flexibility and choice in where and how they would like to work. And with lighter, powerful, wireless technology being widely available, it has made the shift that much easier.
By adding a designated lounging area to your office, you'll be making work more enjoyable for your employees. This allows them to take a break from their rigid desk setup into a more relaxing environment.
Naturally, this can only improve the optimisation of your business as it encourages dialogue and collaboration between employees, as well as improves their productivity, creativity, wellbeing and job satisfaction.
10. Transparency is trendy
Any business owner will tell you that one of the key aspects of running a successful company is transparency. Being open and honest with employees and clients fosters trust and loyalty. But why stop at adding it to your company's core values? Why not reflect transparency in every facet of your business – including your office?
Replace those normal opaque dividing surfaces with transparent dividing walls instead. The added transparency promotes a sense of community between employees, making them feel united and like they're working toward a common goal. Plus, clear coloured glass adds a nice touch to your overall interior design.
Next steps
Now that you have a good idea of what to keep in mind when crafting the perfect interior design for your corporate office, you can begin the process of finding someone to help you craft and execute your project. We've helped you get this far and we don't plan to stop now.
Contractors.Direct offers a curated database of thoroughly vetted, quality contractors who can bring your vision to life, on time and on budget. Get in touch with us and we'll be happy to connect you with the right people for the job.

Like what you're reading?
Get fresh monthly tips to start & grow your LLC.