5 Common Office Fit-out Mistakes To Avoid
5 Common Office Fit-out Mistakes To Avoid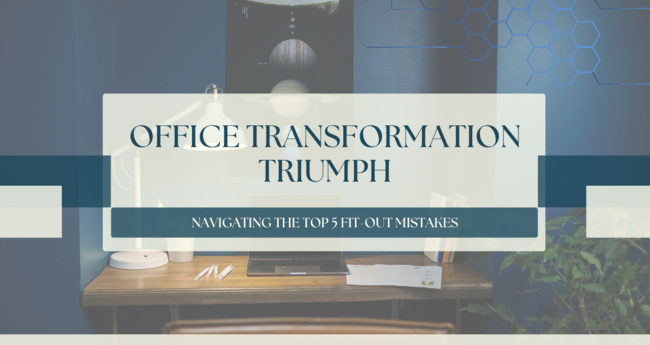 Revamping your office space can be a game-changer for your business. Simple tweaks in your workplace can boost productivity, keep your employees happy, attract clients and showcase your brand's true essence.
When a business starts out on their office fit-out project journey, it is often with an 'anything is possible' approach where the only limit is their imagination. However, the reality of the situation often results in changes, from a design perspective and also a budgetary one too. Prior planning and preparation can prevent poor performance but there are some things that just can't be planned for and how you manage those scenarios is the key to a successful fit out project.
Your office fit-out is an investment, rather than an expense. Get used to thinking of it as such. A fresh office look can convey a powerful message about your company, both internally and externally. Whether you're growing and need a bigger space or are giving your current one a facelift, it's an exciting opportunity. In this post, we will explore 5 common office fit-out mistakes and how to avoid them.
Mistake No. 1 Inadequate Planning
Top-notch office design doesn't just magically happen. It takes a considerable amount of experience, effort and planning to get it right. Wherever possible you want to get ahead of the game and avoid the last minute approach as much as possible, as successful fit-outs hinge on solid planning. You need a plan and you need to follow it in order to stay within budget and on time. So, when you're in the planning stage, it's vital to consider all your needs and wants while keeping a realistic project timeline and budget in mind. Use this time to consult with designers, fit-out contractors, as well as getting approvals and making final adjustments. Rushing this phase can lead to delays, blunders, and missing milestones, all of which can inflate the fit-out cost. Involving a project manager at this stage is often recommended, especially if you have no experience of a fit out project, residential or commercial.
Mistake No. 2 Lack of a Clear Budget
Your budget is the cornerstone of your office fit-out journey. That's why having a crystal-clear picture of your financial limits from the get-go is crucial. If you're not a seasoned pro in office fit-outs, you might not have the faintest idea of how much the whole process can actually cost. That's where research and experience comes into play and the embodiment of this is a project manager. Let them help you understand the reality of what you are asking for and what can be done about it.
Mistake No. 3 Not Utilizing Existing Space
The flow of your workplace is key, and as open-plan workspaces are popular these days, making best use of the space is integral. If you need more room, sometimes relocating to a new space isn't actually necessary. In some cases, companies can save both time and money and get precisely what they need by optimizing the use of their existing space. This might mean adding partitions to create private offices or cozy breakout areas, getting smart with storage solutions, or tapping into areas like hallways or landings. The key is making the most of what you've got. Consulting a fit-out contractor will help you utilise your space to the fullest.
Mistake No. 4 Inadequate Light and Airflow
Did you know that harnessing natural elements in your workspace can significantly boost productivity and employee well-being? That's why it's important to introduce ample natural light and fresh air into your workplace wherever possible. This can do wonders for your team, clients and customers. One way to go is spacious windows and strategically placed skylights. These additions not only enhance performance and productivity but could even save on your DEWA during winter and offer a more eco-friendly alternative.
Mistake No. 5 Thinking DIY is Better than Hiring Fit-out Contractors
Sometimes, in the pursuit of saving money, business owners take on their office fit-out as a massive DIY project. But this can be a big mistake - one that can leave you with a hefty bill for corrections down the line. No matter how handy you are with tools or paint brushes, an office fit-out project manager and seasoned contractor can be worth their weight in gold. They bring a level of expertise and craftsmanship that's crafted over years of experience, to allow them to steer you in the right direction, save you money and keep the project on time. Maximize your return on investment by hiring qualified fit-out contractors. Save time, money and a massive headache.
Bottom Line
Looking for top-notch office fit-out contractors in Dubai, UAE? Look no further than Contractors Direct. Our team of experts are here to understand your specific project and connect you with pre vetted, qualified contractors who can meet your residential or office fit-out needs. We've got you covered end to end from design drawings, to interior design to demolition and fit out.
We don't recommend just any contractors - we recommend the best. Our rigorous Due Diligence process ensures that the contractors we suggest meet the highest standards of work quality, reliability, and professionalism. Here's how it works: you visit our user-friendly online portal and provide details about your project. Our experts take it from there, with a quick qualification call, then matching you with the perfect contractors for your unique needs. It's as simple as filling out one form with a couple of questions. Then we do the rest.
Visit our website today and kick start your office fit-out project.

Like what you're reading?
Get fresh monthly tips to start & grow your LLC.