Best Office Fit Out Tips for Designing a Workplace Kitchen or Pantry
Best Office Fit Out Tips for Designing a Workplace Kitchen or Pantry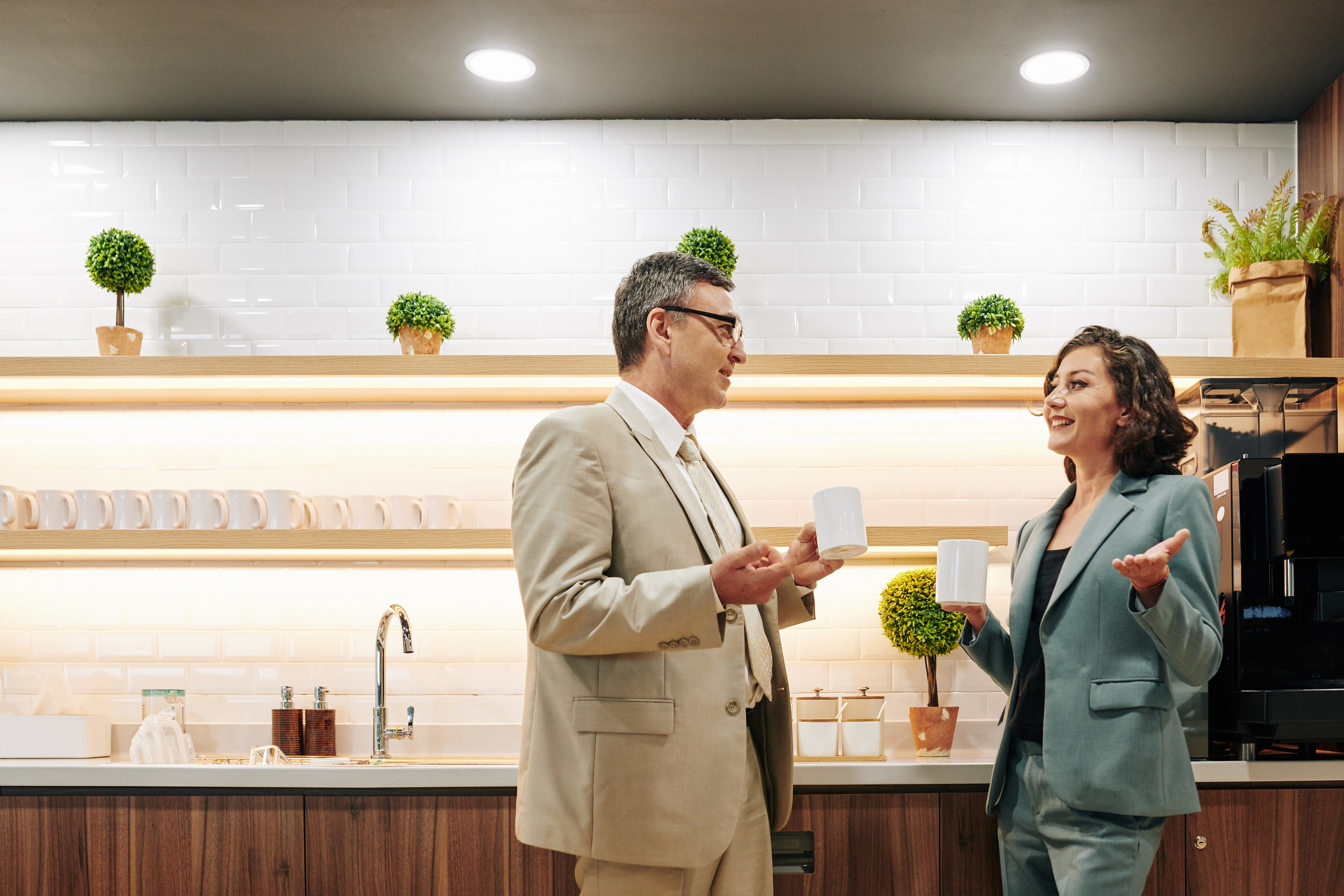 Kitchen areas are often referred to as the heart of a home or restaurant – but this also applies to corporate offices. During office fit out projects, the bare minimum attention and focus are given to the design and execution of the workspace kitchen or pantry, yet it plays a critical role in the smooth operations of daily tasks.
Each and every business needs to have a dedicated space where their employees can store and prepare their breakfast and/or lunch, as well as get that much-needed cups of coffee, to ensure that they're properly fuelled to be as productive as possible throughout the day.
In this article, we explore why it's important for companies to have an office kitchen or pantry, as well as a few fit out tips you can implement when designing the space.
Reasons why every office needs a kitchen or pantry
Maintain a professional and clean office
Your employees need to eat regularly throughout the day to maintain their energy and productivity levels – it's also a basic human right, but you know that already. However, without a dedicated space to store, prepare and eat food, they will be forced to consume their meals at their desks – which will cause a messy and unprofessional environment filled with questionable smells, as well as attract rats or insects.
Furthermore, it helps maintain the office floor as a professional environment, as small company events or small parties, such as birthday celebrations or staff gatherings to end off the week, can be held in the kitchen or pantry.
Increases employee engagement and satisfaction
Kitchens are naturally a space where people gather to meet and talk, and it'll provide the same function in an office. By offering a dedicated space where employees can meet during breaks to socialise with each other, you'll increase the engagement between team members, which, in turn, can improve creativity and innovation, as well as boost satisfaction among staff.
A place to refuel
No one can be expected to focus or be productive on an empty stomach. Not to mention that modern corporate culture is built on workers running on caffeine – hence the boom in cafes popping up around major business hubs.
Providing a kitchen or pantry allows employees to remain nourished, hydrated and energised so that can maintain high levels of concentration and productivity throughout the workday.
Improve retention and boost employer brand
Having a place where employees can go and unwind for a bit during their workday will keep them satisfied in working for your company and will increase the chances of them wanting to stay in their job role.
Additionally, it can improve your employer brand – which refers to your reputation as an employer and how well your company ranks as a work environment. This is because your workforce will speak positively about your company via word-of-mouth and on social media, as well as leave good reviews on sites like Glassdoor.
Better productivity and efficiency
Without a functional place to store, prepare and eat food, your employees will be forced to leave the office during their breaks to consume meals elsewhere. This, of course, takes much more time out of the day than it would if they had a kitchen or pantry to eat in.
If a company has a well-equipped kitchen or pantry, staff are less likely to go out during working hours, take longer breaks or be unreachable in case of a work emergency.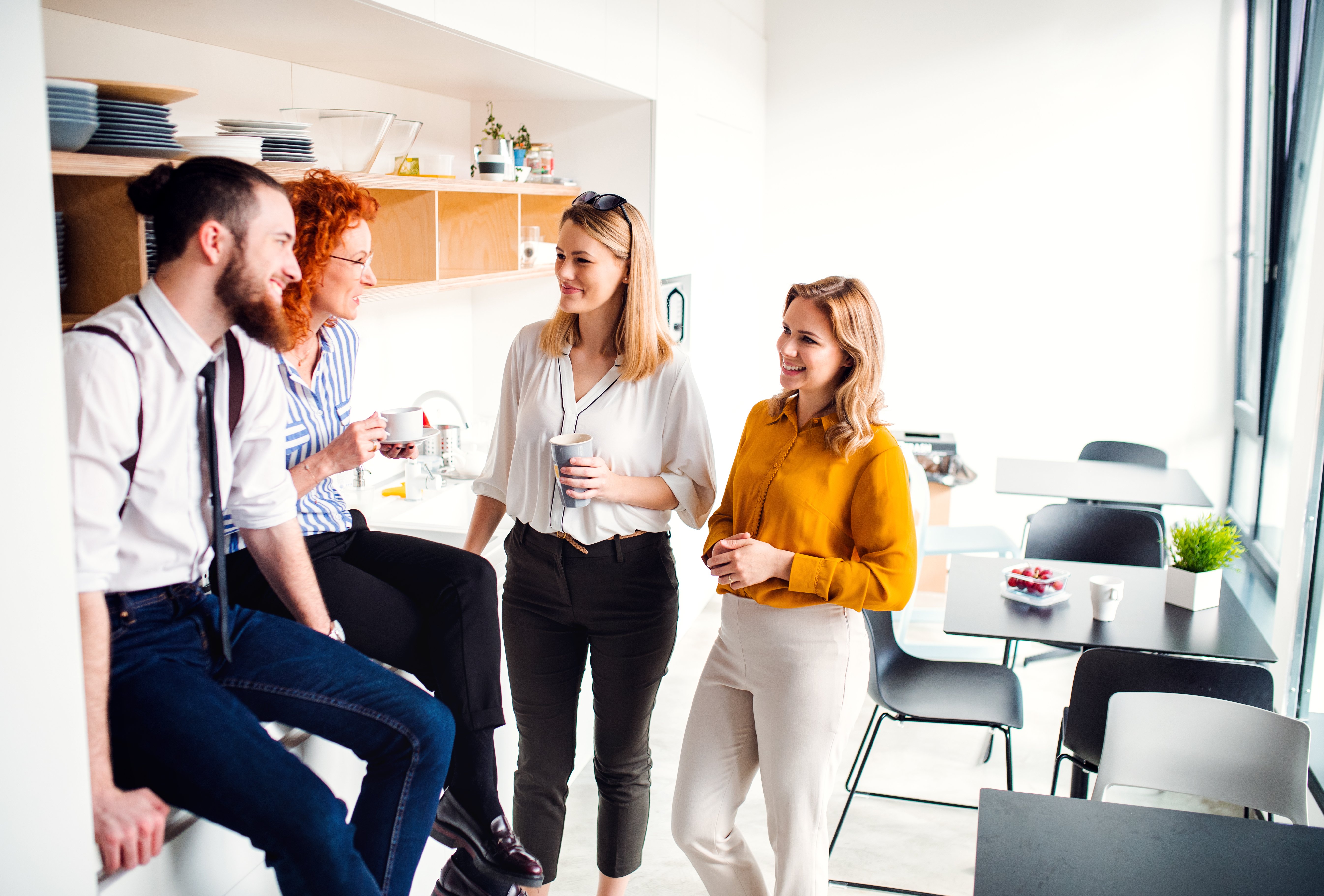 Tips to design a great office kitchen or pantry
Now that you know how beneficial having a functional and aesthetically pleasing kitchen or pantry in the office can be for a business, it's time to look at a few fit out tips that should be considered when designing the space:
Whether you're a small or large business, you need to ensure that the kitchen or pantry area is furnished sufficiently to accommodate all the employees working for your company. So, be sure to have plenty of comfortable chairs and tables available for your workforce to consume meals and unwind during their breaks.
Install adequate storage options
Your kitchen or pantry will need enough storage space to accommodate both inventory that the business provides and consumables that employees bring to work each day. The cabinets will be storing an assortment of dishes and supplies, both perishables and not – so, be sure to provide an adequate amount or you'll end up with a cluttered kitchen.
From the countertops and cabinets to the flooring, it is best to invest in products made from durable materials, as they'll be subjected to heavy wear-and-tear daily. Several different employees will be storing and preparing food and beverages on an hourly basis, so you'll want to ensure that your kitchen is easy to clean and maintain.
Invest in all the necessary appliances
Having a workplace kitchen is useless if the space is not functional. Therefore, you need to invest in all the necessary products and items that employees will need when using this area. A refrigerator, dishwasher, microwave, coffee maker, kettle, toaster and stove are just a few of the common appliances that are found in office kitchens.
Create a relaxing atmosphere
The kitchen or pantry should be a pleasant space to be in and exude a relaxing atmosphere that helps employees unwind when on their breaks. Try to incorporate vibrant colours, natural lighting and ergonomic furniture as much as possible to create a good atmosphere.
Be sure to construct the kitchen or pantry in an area of the office that is easily accessible to all employees, but does not detract from other elements of the office design. You'll also want to optimise the layout of the area as there's a good chance that you won't have a large amount of space to dedicate to the office kitchen.
Get help from the experts
When embarking on any fit out project, even one that seems as small as an office kitchen or pantry, you'll want to ensure that it's done correctly the first time around, or you risk wasting precious time and lots of money.
Avoid any costly mistakes by seeking out the help of a reliable and skilled contractor who has a wealth of experience in corporate fit outs to help you achieve your dream office kitchen – and we know just where to find the perfect expert for you.
Contractors.Direct offers a curated database of thoroughly vetted, quality contractors, interior designers and interior architects who can bring your vision to life, on time and on budget. Get in touch with us and we'll be happy to connect you with the right people for the job.

Like what you're reading?
Get fresh monthly tips to start & grow your LLC.