Create the Perfect Home Gym with These Fit Out & Interior Design Tips
Create the Perfect Home Gym with These Fit Out & Interior Design Tips
Working out has become a natural part of nearly every individual's daily routine – whether you're lifting weights in the gym or jogging through your local park. Not since the popular workout fads of the 80s – that saw the likes of people everywhere donning legwarmers, leotards and sweatbands as they went through their Jazzercise and Step Aerobics routines – has health and fitness seen such a boom among the public.
Fortunately, we no longer have to rely on workout videos from Richard Simmons and Jane Fonda to keep us in shape. In fact, we don't even need traditional gym structures anymore. Since the start of the COVID-19 pandemic in early 2020, at-home workouts were the only way to get your daily dose of exercise as gym facilities were closed due to lockdowns.
And now that businesses are opened back up and fully operational, it seems that more and more people are sticking to working out at home. Matrix Fitness, a premier and fast-growing commercial and residential fitness brand here in the Middle East, noticed an 85% increase in home gym demand at the beginning of the pandemic.
Home gyms are more than the latest fad – it's the norm; a safety precaution in an increasingly unpredictable world. So, if you're one of the few people in Dubai who hasn't yet converted their garage or extra room into a home gym but want to, here are a few fit out and interior design tips to ensure that you get it right.
1. Choose the right space
Possibly the biggest decision you'll make during the design process of your home gym is deciding where to actually build the space. It might seem as easy as converting your spare room or garage space into a fitness sanctuary, but there's a bit more to it than just that.
Consider your attitude toward exercise. Do you like working out in the fresh air of nature? Do you exercise during the day or at night? How many people will be using the home gym? How much equipment will you need? These are just a few questions that you'll need to ask yourself before deciding on the most suitable space.
There are plenty of spaces around your home that you can utilise as your home gym. From an empty corner in your apartment to building a small, dedicated gym in your backyard.
2. Should you go big or small?
This all depends on how much equipment and space you want to include in your home gym design. If you're a fitness fanatic who wants a fully-equipped gym, you'll need a lot of equipment, and therefore a lot of space. However, those who prefer more holistic workouts, like Yoga, might not need as much space.
3. Pay attention to the layout
To get the most out of your at-home gym experience, you'll need to ensure that the space is functional by having a suitable layout. However, there is no one perfect gym layout, as it varies by individual needs. The aim is to make the best use of the available space by considering exactly how your design decisions will impact your fitness experience.
4. Lighting is always important
If you work out during the day, you'll want to allow for as much natural light in the space as possible. This will help keep you alert and your energy levels high. Furthermore, a sufficient natural flow of light can create a refreshing ambience for those who enjoy working up a sweat in the early morning.
Not every space, however, can accommodate natural light. In this case, you'll want to upgrade your artificial lighting to a cool but bright white overhead lighting with LED to provide the same energising effect as natural light. Consider installing a dimmer switch to bring down the lighting levels when you want a more calming atmosphere during cool-down routines or holistic workouts, such as Yoga and Pilates.
5. Soundproof the walls
Where possible, you might want to consider soundproofing the space to not disturb others living in the home or nearby neighbours – especially if you plan to blast some music to keep you pumped and motivated.
The best way to achieve a soundproof home gym is to install sound-absorbing panels or soundproof wallpaper, specially designed to ensure no noises leak out of the space.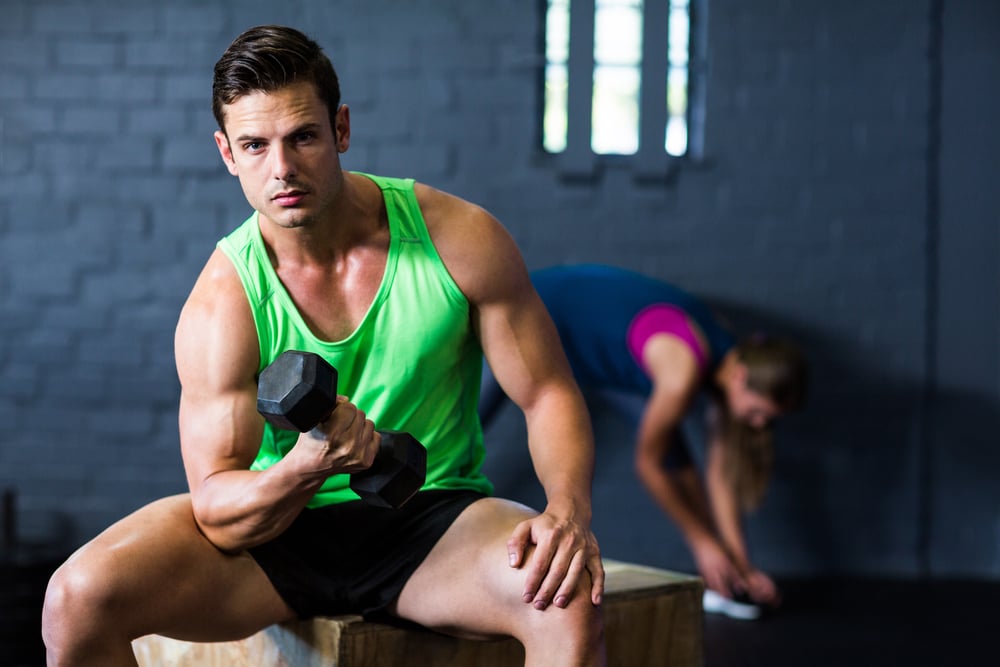 6. Install suitable flooring
Any gym, whether commercial or residential, needs a strong, durable flooring solution that can support the equipment and physical activity taking place within the space. Fortunately, there is an endless number of surfaces available in a wide range of textures and functionality, from rubber floor tiles to hardwood gym flooring.
7. Pick out a colour scheme that inspires you
When choosing a colour scheme for your home gym, you should keep colour psychology in mind. This is because colour psychology can have a huge impact on energy levels.
For instance, if you want to ensure that you remain pumped for the duration of your workout, opt for a green that is reminiscent of nature or the outdoors. Or maybe you need to overcome physical challenges and limitations – in that case, you'll want a purple colour scheme. Neutrals, like white and cool grey, are a great way to keep focused, whole fiery reds and oranges increase the heart rate, stimulate thoughts and increase feelings of cheerfulness and enthusiasm.
8. Jazz it up with an LED screen and sound system
Get the complete commercial gym experience by blasting music throughout the space and adding a TV or two to distract or entertain you while using the treadmill or exercise bike. After all, these are the elements that create the perfect environment to get you through an intense workout.
9. Make sure to manage the temperature and air quality
Unless you have all the space in the world, it's more than likely that your home gym space will be mostly packed. You'll want to make sure to invest in a solid HVAC system to keep your workouts comfortable, as well as to avoid any steaming or the room becoming stuffy.
10. Don't forget to add a bit of décor to spruce the place up
The more aesthetically pleasing your gym is, the more motivated you'll be to use it to work out. Make the space as comfortable and appealing as possible by adding a sofa or chill zone to relax and recoup in, or a few wall cupboards for storage. Other items you might want to include are mirrors, a fridge or water tower, motivational artwork and air-purifying plants.
11. And, of course, you'll need the proper equipment
Lastly, you'll need the right equipment and machinery to complete your home gym. Keep in mind, that you won't need the state-of-the-art, larger products that gyms stock for commercial use. Many companies around Dubai stock affordable, smaller equipment that can fit in a home gym, such as an Olympic barbell, weight plates, jump rope, flat bench, squat rack with a pull-up bar and foldable treadmill.
How can Contractors.Direct help?
If you're planning to build a home gym or upgrade an existing one by incorporating one of the above fit out and interior design concepts, then you'll need the help of a professional interior designer and fit out contractor who possesses the necessary skills and experience to deliver high-quality work.
Fortunately, you've come to the right place.
Contractors.Direct offers a curated database of thoroughly vetted, quality contractors, interior designers and interior architects who can bring your vision to life, on time and on budget. Get in touch with us and we'll be happy to connect you with the right people for the job.

Like what you're reading?
Get fresh monthly tips to start & grow your LLC.