Finding Restaurant Fit Out Contractors: 3 Steps to Consider
Finding Restaurant Fit Out Contractors: 3 Steps to Consider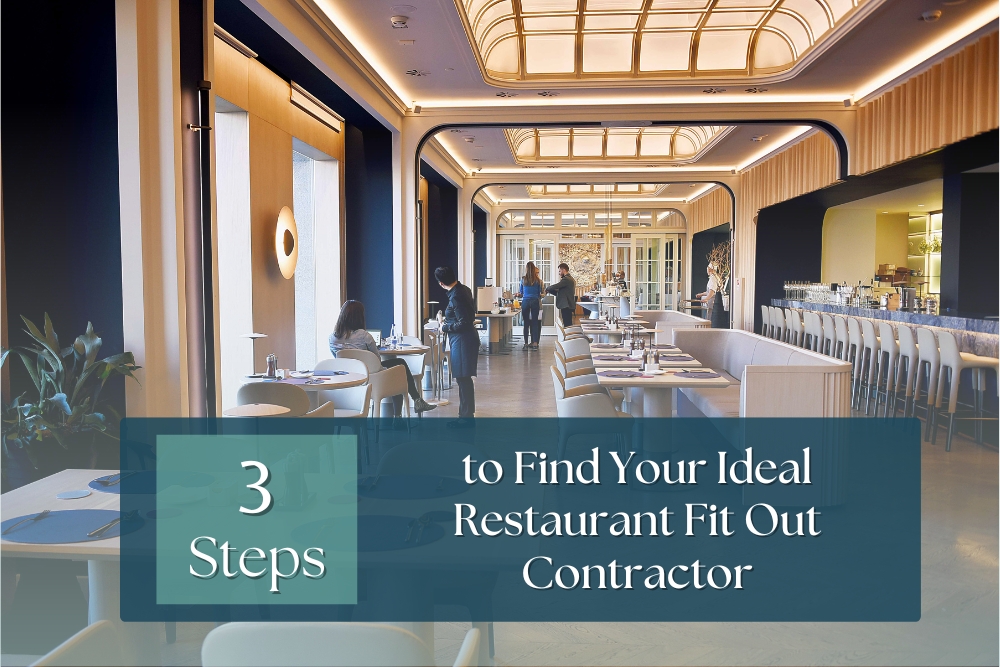 Dubai over the years has evolved into a very attractive tourist haven in the UAE. It's not surprising then to see the demand for excellent food and beverage outlets constantly increasing. It would seem then that if you were looking to make your mark, or further your career in the restaurant business, Dubai would be one of the best places to do this.
However, whether establishing a restaurant in Dubai or revamping an existing one, the perfect interior design is essential to create the perfect ambiance to accompany the food. In this digital age, a lot of people aren't just coming to eat, they are coming in order to create content for the 'gram, so you want to cater to that and have customers keep on coming back.
Finding the most appropriate contractor for you and your project though can be a challenge. You'll probably head to Google and type in best restaurant fit out companies in the UAE to find one, but before you do that, read on.
How to Find the Best Restaurant Fit Out Contractors in Dubai
When it comes to your restaurant fit out, you want to feel confident that you've got the right contractor on the job. In fact you need the most appropriate contractor in Dubai on the job. But, before you start your search. Have you considered the following?
Establish your Actual Requirements-
Interior Design is an art form. Within that art form are a multitude of options. We can sometimes get lost in our design thoughts for the space, often forgetting the cost implications. We'd suggest that what needs to happen is to establish what is actually needed in our fit out and what would be a 'nice to have'. Your decor choice is going to work for or against you in enticing customers in, so ask yourself the following questions:
How can you maximise the number of covers in your dining area?

Where would be the most effective location for the waiting area?

How big does the kitchen actually need to be to accommodate the food you'll be producing?

Where should the bar be to optimise the flow of the space?

How much room is actually required for all the integral appliances?
Answering these questions whilst thinking about creative restaurant fit out trends can help design the perfect look for your restaurant that's also within budget. It will also help interior fit out contractors better understand what exactly you are looking for and how realistic it is.
Research The Restaurant Fit Out Trends Of 2023
We know you want a long running, super successful restaurant and keeping the space up to date and in line with what your customers want is key. That's why before looking at interior designers and contractors for the job, check out trends that are working now but will also wear well, so to speak. Perhaps consider a few of the following;
Eccentric wallpaper

Decorative ceilings

Hanging decor

Luxe bathrooms

Metal accents

Beautiful tiles

Design elements for dining areas, like sliding doors, glass, room dividers, foliage and more
Knowing what's on trend right now can help you find interior designers and restaurant fit out contractors in the UAE to refurbish your space accordingly. You can check their portfolio and the recent restaurant developments they have done and see elements of your design and requirement in situ. It might help you make some final decisions and even throw out some ideas you thought were absolute non negotiables.
Qualities To Look For In Restaurant Fit Out Contractors
With so many potential options, it can be challenging to find the best one for you and your project in a place like Dubai. Obviously their portfolio of restaurant designs is key, but you need to look a bit deeper as well:
How many restaurant fit out projects like yours have they done before?

What do their previous clients say about their experience?

How long have they been in this business?
Answering these questions on top of their portfolio will definitely help you choose the best match for your fit out job.
Say Goodbye to Your Research Hassles with Contractors Direct
Why not let us do it for you? Rather than spend your time researching and evaluating, we've done that already. When you are looking for the best restaurant fit out companies in Dubai, head on over to our site and just put your project details into our short form and let us search on your behalf! At Contractors Direct, you can connect with pre-qualified, licensed contractors and interior designers in a few simple steps.
Fill out the form on our portal and click 'Search'! We then look for the best suited contractors for your project. After a quick call from one of our specialists to confirm some of the finer details, you'll be introduced to a choice of contractors who could help you with your restaurant fit out project. You can also get an idea of project cost using our fitout cost calculator.
No more waiting! Tell us about your project and estimate your project cost too!

Like what you're reading?
Get fresh monthly tips to start & grow your LLC.