How Can Office Interior Design Inspire My Team in Dubai?
How Can Office Interior Design Inspire My Team in Dubai?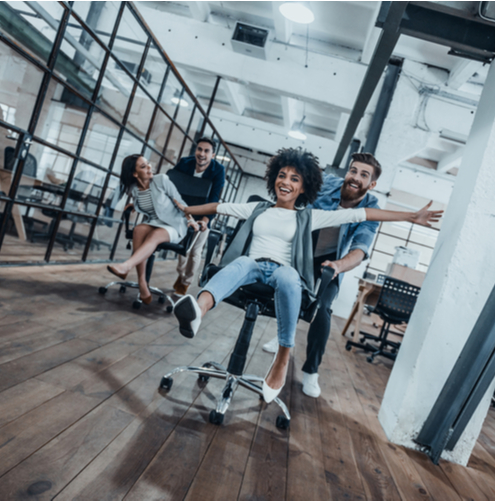 As humans, we are inherently sensitive to our environment. Considering we spend an average of 30% of our lives in the workplace, it goes without saying that the work environment should be one that brings out the best in employees. Office interior design lies at the heart of creating an innovative space that harnesses employees' productivity.
Employers are increasingly recognizing the importance of the right office interior design.
Consequently, professional interior design companies in Dubai are conceiving new and imaginative ways to transform workspaces and help companies to stand out in this competitive market. With the growing importance placed on employee wellbeing in general, you may be wondering, how can office interior design inspire my team in Dubai?
PRODUCTIVITY
Plenty of research over recent years has shown that inevitably, happy employees are more productive. A large part of producing happy employees boils to down to constructing an environment where they feel creative and comfortable. Even small changes can make all the difference! Incorporate the workspace 'breakout' areas into the workspace, where employees can take a mental pause or conduct informal meetings. In loud areas, incorporate acoustics to ensure that people are not distracted. Offer areas for employees to take a break and relax. Many office interiors in Dubai are designed to be cost-effective and space-efficient, neglecting employee wellbeing.
But there's no need to choose between the two! More and more interior designers in Dubai are offering creative design and fit-out solutions suited to any budget. The bottom line is, if employees are happy to come to work, they feel inspired to perform.
COMPANY CULTURE
Defining a distinct company culture is integral to business success. A well-defined company culture gives new and existing employees an idea of your brand's values, helping to find employees that are the right fit. Moreover, an office space should not only be designed with employees' needs in mind, but should consider the business as a whole. Particularly for client-facing companies, your office interior design establishes your brand identity, it's the first impression for visitors! Think about what kind of image you want to project, is your current office interior design living up to your expectations? Companies that work in professions such as law and accounting will generally take a more formal approach to give their customers the idea that they are serious. However, more creative companies will want to showcase their imagination. Think about incorporating a feature wall in your office interior design; one that really exemplifies your brand identity and inspires your employees.
EFFICIENCY
Efficiency is at the core of running a successful business. It's great making employees feeling comfortable and appreciated but is this translating into results? Interior design can be manipulated in a way that is conducive to increasing efficiency. A well- designed office should include good lighting, ergonomic furniture, proper ventilation and dedicated spaces for certain jobs. All of these create an environment that allows employees to perform tasks better and minimise employee sickness. Including specialized areas for brainstorm sessions or dedicated zones for relaxation gives employees boundaries, allowing them to use each space to get into the mindset necessary for the job at hand.

Like what you're reading?
Get fresh monthly tips to start & grow your LLC.