The United Arab Emirates is well-known as a popular tourist destination. With everything oozing luxury, it is hardly surprising that interior design within the workspace is not forgotten. Due to the extremely work-oriented culture of many Emiratis and foreign nationals residing in the UAE, a big emphasis is placed on commercial interior design. However, it can be a challenge to decide on what you are most happy with regarding the interior design for your office fit out. We look at some of the hottest trends that breathe functionality and modernity, and those which boost productivity below.
1. Collaborative workspaces
The ability to interact and share ideas is an ongoing trend in modern businesses, so it only makes sense to incorporate shared workspaces. There are a variety of ways to introduce shared workspaces within the interior design for your office fit out, including spaced-out desks that can fit a few employees at a time, or having round tables if you have a smaller office space. If you need to think of privacy for meeting times, mobile dividers can be easily incorporated.
2. Biophilic design
Including elements of nature within the interior design for your office fit out enhances productivity amongst employees due to the positive effect it has on their mental and emotional well-being. Wellness has become an increasingly popular concept with companies on an international basis and is therefore emphasised in the design of the interior workspace. Ideas for including biophilic design within your commercial interior include a variety of plants, maximising natural light, and utilising a colour palette that reflects the colours of nature. Some of these colours include natural browns, warm yellows, striking greens, or even wallpaper that is reflective of nature. Biophilia is known to relieve stress and anxiety while encouraging tranquility within a busy working environment.
3. Adding playful or relaxing elements to a shared space
As it becomes increasingly important to have a work-life balance outside of the office, many designers and corporate entities have started including this approach within the office too. Even the most discerning employees enjoy being able to switch off and unwind while at the office. This is achieved by incorporating a lounging area with comfortable sofas, a barista where they can grab a coffee or snack, or including a games room with a pool table or foosball table for some hearty fun. Incorporating elements which we associate with relaxation and home life is what boosts productivity and lowers stress levels. No one can deny that a healthy work environment results in positive attitudes, a harder work ethic, and a relaxed work culture when a disconnect from working is required.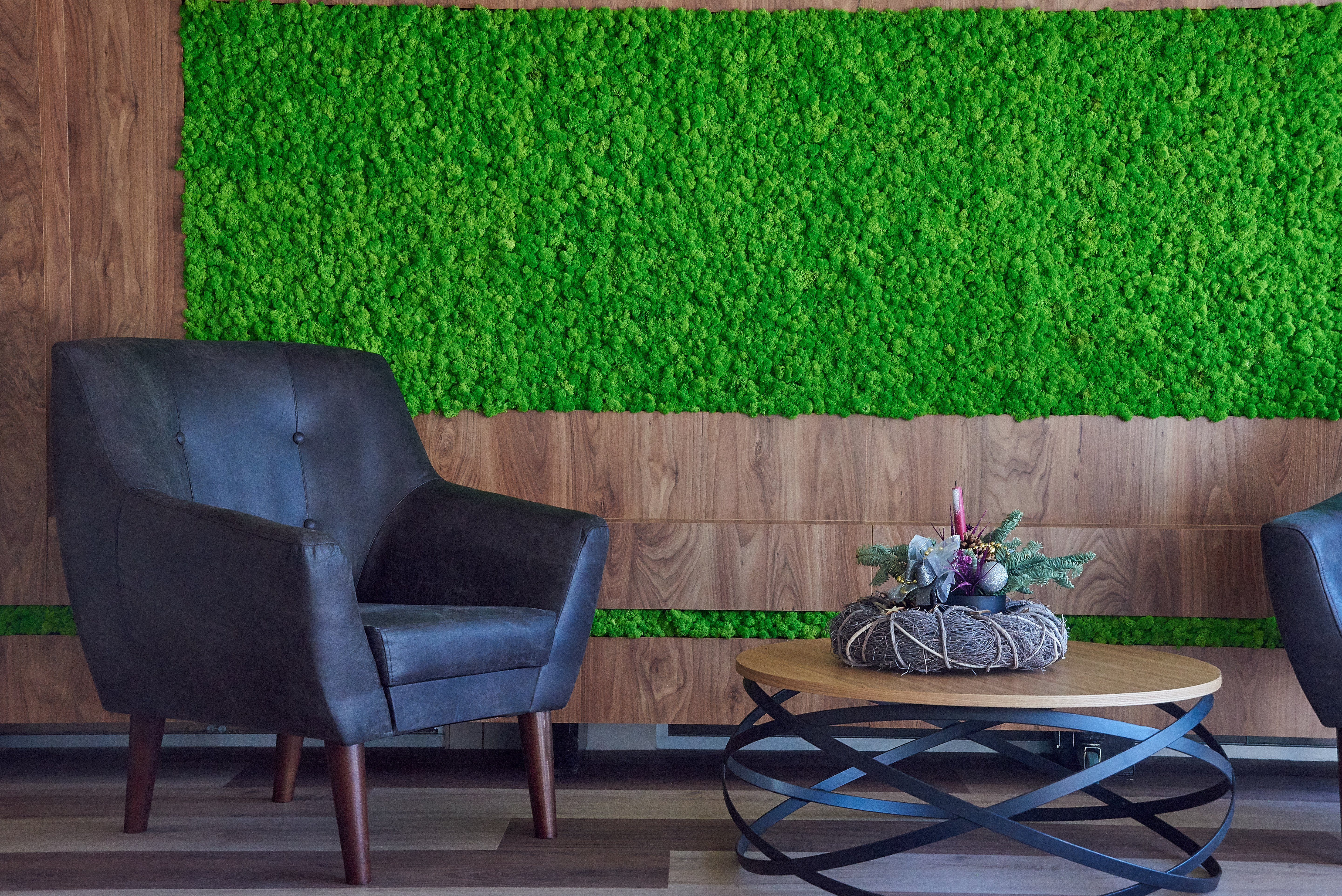 4. Ample lighting and clean finishes
Having substantial lighting within your office area is a must for boosting productivity. No one likes the idea of a dark and dreary office, so make sure that the interior design for your office fit out includes enough natural and artificial lighting. Additionally, interior designers swear by a spacious office environment, so make sure that cabling, clutter and wiring is well-hidden to avoid a congested look. Clean finishes look neat and aesthetically pleasing, and this should be reflected within your office environment. If you are working with a smaller office space, then white walls are the way to go. White adds a spacious feel to any room, yet again reducing the feel of congestion and cramped spaces. Make sure that your choice of flooring harmonizes with the choice of wall colour, in this case, white. Marble flooring or porcelain tiling complement white walls well.
5. Think sustainable
The world is becoming more and more conscious of the environment, and this can be seen in the use of sustainable products and methods in interior design. Utilising materials which effectively reduce carbon emissions, using upcycled or recycled materials and products, and incorporating 'green' materials wherever possible is the leading trend among commercial fit outs.
6. Include branding in your office interior design
Branding is a reflection of a company's sense of identity and reflects its core values. Backed by the approach that every corporate entity has a story to be told, branding your office design reflects this concept. Whether you include the vibrant orange hues of your company logo in the colour palette of your office furniture, or blast recognised major projects on a motivational wall, there are many ways to get creative and innovate your workspace while encouraging a sense of pride among your employees. It also reassures clients visiting your work environment that your company is proud, carrying its core values all the way through to the design of your office space.
7. Using ergonomic furniture
Having an office space that is comfortable as well as functional is key to the ideal commercial fit out. Ergonomic furniture epitomises this concept, enabling maximum comfort levels due to its design considering the movement of the human body. Examples of great ergonomic furniture to include in your office space include chairs which can be adjusted, as well as smart desks which follow body movement, blood pressure, and calories, and enhance your focus while working.
8. Using elements that enhance human well-being
As previously mentioned, health and wellness are key considerations among the corporate world, and this is evident within modern commercial fit outs. Having an office space that encourages a healthy lifestyle is easier than you may think. This can be done by using plants that clean the air, such as peace lilies or snake plants, or even air purifiers which utilise essential oils with varying health benefits. Additionally, window fixtures that enhance or allow natural lighting is another option, and technological solutions that ease strain on the eyesight are great ways to increase a feeling of health and wellness.
Your interior office fit out can include various technological innovations and creative ideas without losing its business feel. Reach out to Contractors.Direct for all your office fit out requirements. All of our contractors are experienced and qualified, undergoing a due diligence process before being approved to work with us. If you require fit out finance for your dream commercial fit out, we can assist too.