Latest Office Fit Out News: Design Trends and Ideas Dominating 2021
Latest Office Fit Out News: Design Trends and Ideas Dominating 2021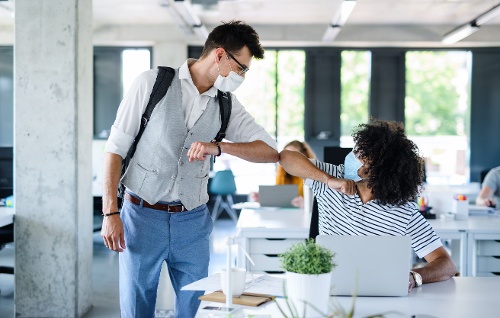 The majority of 2020 left the corporate world shaking to the core with the arrival of the Covid-19 health crisis. Businesses all around the globe have had to transform their processes and work environments to comply with safety measures under the pandemic.
This, naturally, led to remote working becoming an essential part of all companies, where employees could now work from the comfort and safety of their homes while still ensuring that the day-to-day operations of the business could remain ongoing.
It was long speculated that remote work would become the new norm for each and every business, with offices slowly becoming a thing of the past. However, with the world now slowly opening back up due to the introduction of vaccines and new technology, the corporate workspace is back again, albeit a revamped version of what it previously was.
Many companies are still offering the flexibility to work from home, but the need for a physical office space is very much alive and well, as it strengthens humanity, innovation, purpose, energy, wellbeing, talent and culture.
So, seeing as corporate workplaces are here to stay, we look at the latest office fit out new by exploring the design trends and ideas that are taking over 2021.
One of the biggest challenges employees face when working from home is the difficulty to collaborate efficiently and effectively. Even though remote working is here to stay, you can expect your workforce to want to meet in the office at least once a week for in-person collaborating, brainstorming sessions and meetings.
Even with all the technology that makes working from any corner of the globe a breeze, there's just no substitute for sitting around a boardroom table and hashing out a plan over coffee.
Therefore, the post-Covid-19 office aims to offer employees a space that facilitates safe and effective collaboration. Known as 'huddle zones', these spaces will allow staff to come into the office for scheduled meeting sessions and ad-hoc collaboration without being fully immersed in the office environment.
Centering employee wellbeing
There has never been a more crucial point in history for businesses to put the health and wellbeing of their employees at the forefront of their office space initiatives. Not only do you want to ensure your workers are safe whenever they visit the workplace during a pandemic, but it can also benefit your company's bottom line.
Happy and healthy employees are usually the most loyal and productive members of your workforce. Therefore, you want to make sure that every single staff member is taken care of while at the office.
Here are just a few ways to promote employee wellbeing:
Biophilia: Adding greenery, like plants and livings walls, around the office space can improve the moods and reduce the stress levels of your employees. Bring the outside into your workspace to create a tranquil environment that your workforce can enjoy.

Natural light: By maximizing the amount of sunlight around your office, you can boost your employees' Vitamin D levels, which wards of depression and improves sleep. Install glass partitions, big windows and skylights to make use of the natural light.

Ergonomic furniture: Invest in height-adjustable desks, kneeling chairs and task chairs to keep them comfortable and in the best positions throughout the day. This, in turn, will keep them healthy and productive.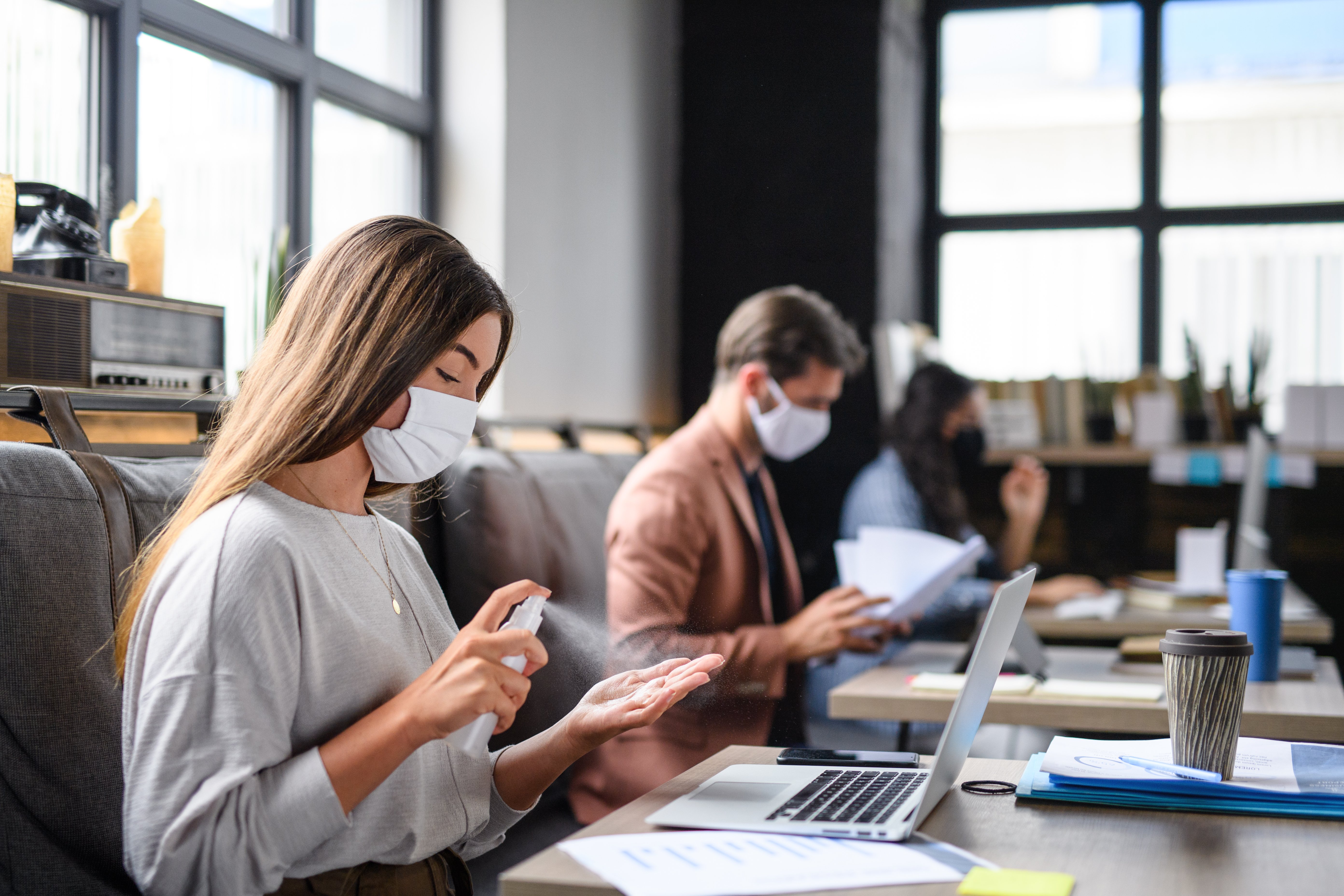 Flexible office furniture
A trend that first showed up in 2020, flexible office furniture is here again. The pandemic forced businesses to become flexible in nature to accommodate the ever-changing regulations. As such, the office furniture had to become just as flexible, being subjected to countless re-configurations to ensure both safety and functionality.
Wheel-around desks, modular seating and moveable screens are just a few suggestions that can be added to your workspace to adjust and adhere to social distancing measures and flexible remote working schedules.
Incorporating the 'colours of the year'
Each year, Pantone announces their Color of the Year, an annual celebration that has taken place for the last 2 decades. Winning colours are chosen based on their influence in product development and purchasing decisions in multiple industries, including fashion, home furnishings and industrial design.
"Illuminating" and "Ultimate Gray" have been named Pantone's Colours of the Year for 2021. Usually, the experts at Pantone only choose one colour, but this year they have opted for two to reflect a combined message of happiness and fortitude, respectively.
Given the popularity of the two shades across all industries, we wouldn't be surprised to see it popping up in several offices.
Sustainability is still in
Sustainability is an interior design trend that is standing the test of time. At this point, it is much more than just a mere passing phase in the industry, but is now standard practice that all businesses are expected to implement in any and every way they can.
All companies across the world need to do their bit by incorporating sustainable designs within their offices. Some of the ways you can do this are by:
The office is now an experience
Now, most, if not all, businesses have implemented some form of remote working solution for their employees, it's important to realize that individuals will no longer view the office in the same light as they once did pre-pandemic.
Creating an enjoyable working environment that provides a good employee experience is essential in attracting new employees and retaining current ones – especially now that your workforce won't be in the office full-time.
Businesses can consider having coffee and vending machines, resimercial (residential meets commercial) spaces, or exercise and meditation areas, and even game rooms.
As remote working becomes commonplace, businesses are investing in videoconferencing rooms that allow those in the office to connect with dispersed teams and clients anywhere around the world.
Offices are being configured to accommodate digital communication through the use of a dedicated space, technology and software, like Zoom or Microsoft Teams. This way the workforce in the office will not be disrupted anytime they need to hop on a videocall with a colleague. Furthermore, it ensures that private or sensitive conversations can be had without the fear of confidential information being heard by others.
Your videoconferencing room should have ergonomic furniture, screens, webcams, microphones, smart interactive whiteboards, speakers, adequate lighting and any other necessary technology and products needed to ensure smooth processes when on video calls.
Greater investment in technology
Technology and digital tools will not only be needed in the videoconferencing room but throughout your entire office – and there are two reasons why.
Firstly, the pandemic is still very much present in 2021 as it was last year. However, we now have the advantage of contactless technology that can keep employees safe while ensuring they remain productive. Sanitizing stations, hands-free devices and contactless keypads and touchpoints are going to be commonplace in every commercial office space.
Secondly, we are firmly within the digital revolution that sees technology becoming a major part of everyday life. AI tools for automation and digital solutions are being integrated into workplaces to create a smart office that aids employees' productivity and efficiency.
More robust ventilation systems
If you plan on having your employees in the office, whether full-time or part-time, you need to ensure that the space is as safe as possible. In addition to contactless touchpoints, hands-free devices and furniture that promotes social distancing, your office needs to have a high-quality ventilation system in place to ensure that clean, fresh air is being circulated throughout the space at all times.
Consider upgrading your HVAC system and installing as many windows or skylights as possible to accommodate better, healthier ventilation in your office.
Need help implementing these ideas?
The trends and ideas mentioned in this article are more than just flash-in-the-pan fads that will fade out in the next few months – they cater to the new way of life that the world has had to adjust to since the onset of the Covid-19 pandemic and are going to be around indefinitely.
With that being said, it is highly advised that you consider implementing most, if not all, of these design concepts for a better, safer and more productive office environment. However, this will require a fit out and/or interior design makeover – and you'll need help from the experts for that. But not to fear, because we have you covered!
Contractors.Direct offers a curated database of thoroughly vetted, quality contractors, interior designers and interior architects who can bring your vision to life, on time and on budget. Get in touch with us and we'll be happy to connect you with the right people for the job.

Like what you're reading?
Get fresh monthly tips to start & grow your LLC.