What Certification Do I Need for My Warehouse Fitout?
What Certification Do I Need for My Warehouse Fitout?
When operating your business from a warehouse, you need to ensure that the space is functional and optimised for maximum efficiency and productivity. This is easily achieved through installing an effective fitout design in your warehouse.
However, before you can undertake any fitout project, you must first obtain the necessary approvals to comply with Dubai's regulations and requirements. And as it can be a tricky process to navigate, we've put together a short guide that can help point you in the right direction of what certifications you need for your warehouse fitout.
What certifications are needed?
Like with any other commercial buildings, if you want to make any structural changes to your warehouse, you'll need to abide by certain building regulations and design guidelines to obtain a license of approval for your fitout.
But first, you will need a permit and the relevant approval to carry out any fitout projects around your warehouse.
The relevant authority responsible for issuing your certification depends on where your warehouse is located. If in Al Quoz, Dubai Investment Parks or Ras Al Khor, you fall under the jurisdiction of the Dubai Municipality and Civil Defense. Warehouses situated in the Jebel Ali Free Economic Zone (JAFZA) are required to get a Trakhees license. And those in the TECOM free zone is overseen by Dubai Development Authority (DDA).
If you are renting your warehouse and do not own the property, you will need to obtain Non-Objection Certificates from the landlord, building manager and Dubai Municipality or relevant authority that governs the free zone you're located in.
What are the general guidelines?
In order to receive the necessary certifications and approvals for your fit out, your warehouse must meet the following requirements:
Your warehouse must be located in an area dedicated to industrial types of work in the free zone, as per the Land Use and Classification and Regulations in Dubai.

Unless the relevant authority states otherwise, all warehouses are required to provide skylight openings of at least 5% of the floor area, as a means to provide natural ventilation and light.

Unless indicated otherwise by the relevant authority, the net internal height of any storage area, such as a depot or workshop, must be between 4 and 9 metres.

A maximum limit of 20% of the industrial area can be dedicated to commercial activity. Outside of this area, commercial activity or goods display for trading cannot be carried out.

All warehouses are required to provide a canteen, pantry and changing rooms with lockers for employees to use when needed. People with disabilities may only be employed when special provisions for them are incorporated into the design of the space.

Kitchens and related cooking activities are not allowed on site.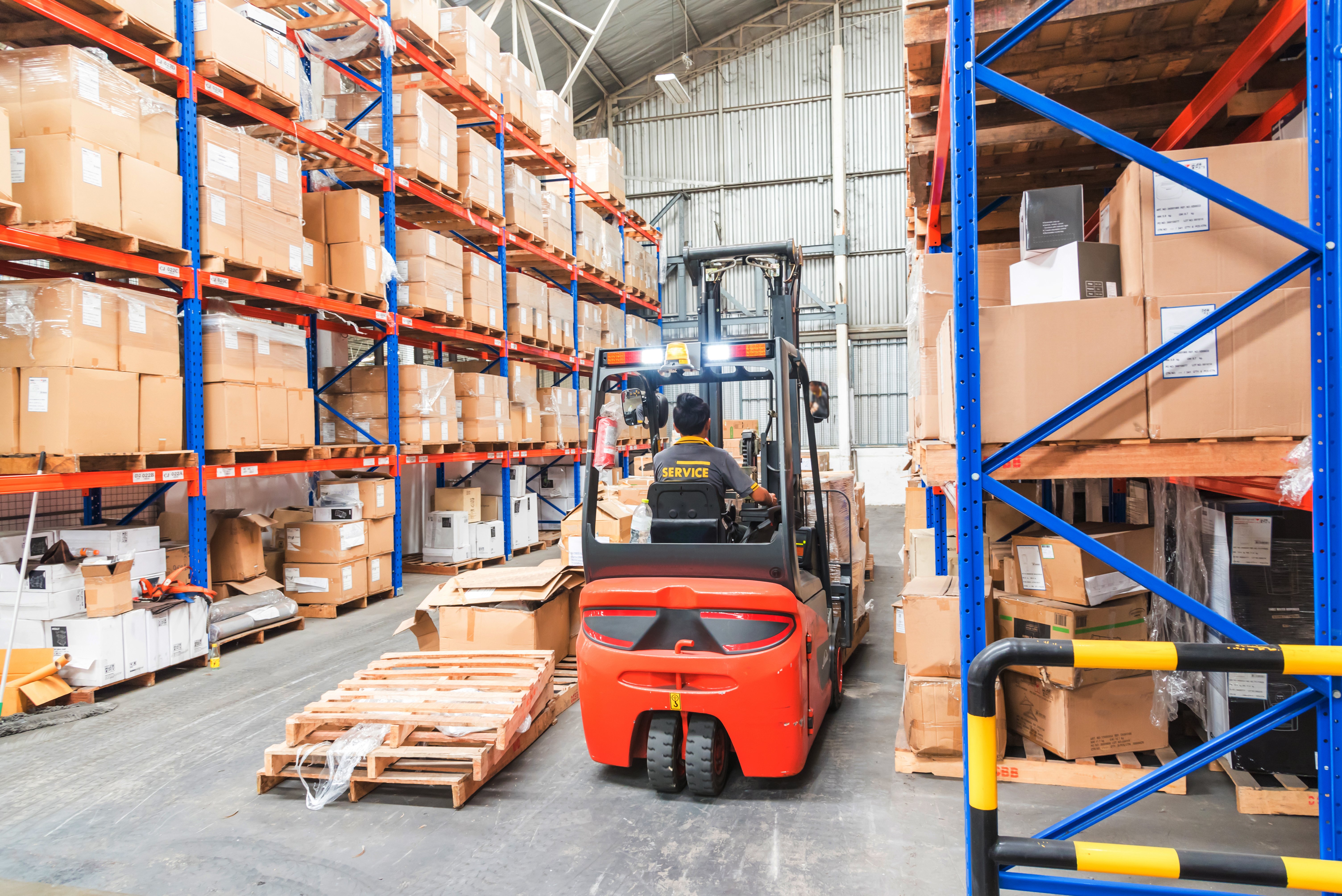 Sanitary provisions:
Bathrooms with toilet cubicles and basins are to be provided for male and female staff members at the ratio of 1 per 25 employees. If the number of staff exceeds 100, then bathrooms are to be provided at a ratio of 1 per 40 urinals.

Toilet corridors are required to have a minimum width of 1.2 metres with stall dimensions of 0.9 x 1.25 metres.

Vending equipment, waste receptacles and dispensers need to be 1 metre above the floor level with the waste receptacles embedded into the walls and out of the way of people.

Unisex toilets for both sexes are prohibited and doors to male and female washrooms are to be separated as well. Self-closing doors should be provided wherever possible.
Mezzanine floor constraints:
100% of the mezzanine floor can be used as parking for cars or as an extension of the building's usage purpose.

It is prohibited to build balconies or terraces on mezzanine floors, and second mezzanines are not permitted when the first one being detached and used independently.

The internal height of the ground floor has to be a minimum of 3 metres. If a half mezzanine floor is added, it then has to be between 2.4 to 4 metres. Lastly, if a full mezzanine is being added, then the permitted internal height is between 2.6 to 3 metres.

Mezzanine floors can only be installed if done so without disturbing the existing warehouse structures.
Fire safety provisions:
Smoke detectors must be fitted in every partitioned area within the warehouse and are required to be tested by an Environment, Health and Safety home (EHS) approved fire contractor.

Fire extinguishers of 9-pound water type and 5-pound capacity carbon dioxide type must be placed at strategic locations around the warehouse.

Wherever fire hazardous materials are being stored, a sprinkler system must be installed. The sprinkler piping system must be tested and approved by the local fire department.
If these requirements are met and you have the necessary NOCs and supporting documents, you should have little to no issues when trying to obtain your certification.
Need help with your fitout?
Once you have your approval and certification, it's time to begin work on your warehouse fitout project. But to do that, you'll need some help from an expert who can deliver high-quality work, on time and within budget.
Where do you find someone like that? Right here!
Contractors.Direct offers a curated database of thoroughly vetted, quality contractors, interior designers and interior architects who can bring your vision to life, on time and on budget. Get in touch with us and we'll be happy to connect you with the right people for the job.

Like what you're reading?
Get fresh monthly tips to start & grow your LLC.