3 Handy Tips to Find the Best Office Fit Out Contractors
3 Handy Tips to Find the Best Office Fit Out Contractors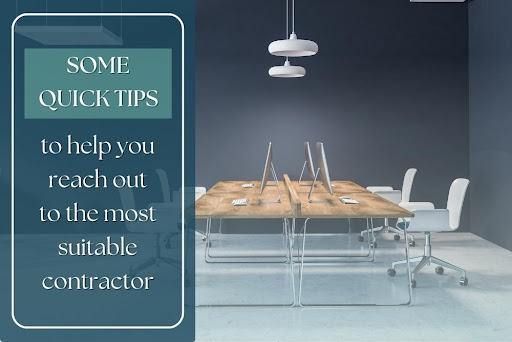 Your Dubai based company is growing. Unsurprising given that the UAE has turned itself into one of the largest commercial hubs in the region.
You are expanding your company and need to move to a bigger space. In which case, you have two options - leasing a new place or revamping your existing office space. The second one is a comparatively affordable alternative. And in choosing this option, you'll need the best interior fit out contractors in Dubai to get the job done on time and on budget.
In Dubai though, it can be challenging to find the right contractor for your job, especially if you don't know where to start. Don't worry! We are here with 3 top tips to help you find the right contractor just for you and your project.
How to Find the Right Fit Out Contractor in Dubai for Your Office Interior Upgrade
Here are some quick tips to help you reach out to the most suitable contractor for your project:
#1: Determine Your Needs-
It sounds obvious but you would be surprised how many times we have had to help clients determine what it actually is they want. Whenever you search for qualified interior designers and fit out contractors in Dubai, understand your requirements first, where to start in particular. As part of the decision making process ask yourself the following questions:
What style and decor do you want in your office space; modern, eclectic, biophilic design, open workspace, outdoor spaces, quiet areas, communal areas, kitchen, coffee station, etc?

How much you can afford - but really, how much can you spend on the project

What are the timescales for the project? Be realistic and also up front with dates, especially if there are non negotiables in there.
#2: Set Your Budget-
Budget is the budget and you need to look at it in detail. You need to consider how much you can spend on the office interior fit out project while establishing your needs versus your wants, versus your 'nice to haves' so you can connect with the right contractor for the job..
Now, your question will probably be, "How do I know how much budget I need?" Well, in this case, you can just head over to our fit out calculator and put in the details of the job and boom. Budget sorted. You could even look at considering paying for the whole office interior fit out on finance! There are conditions of course but check out our repayments calculator and then see if you qualify.
#3: Select a Reliable Fit Out Contractor-
Sounds obvious but it's not always that easy. When looking for reputable fit out contractors for your office fit out, asking about or having a quick look on Google can yield results, but not often a guarantee. When it comes to your workspace environment, don't leave it to chance. Let Contractors Direct help connect you with the most suitable contractor for your job. We have done all the heavy lifting so you don't have to. Just fill out the form, have a quick chat with one of our consultants and get connected to the most appropriate pre approved suitable contractors for your job.
Contractors Direct - The Quickest Way to Reach Out to Pre-Qualified Office Interior Fit Out Contractors
This is by no means a comprehensive list, but it's a good start to get connected with skilled contractors and interior designers in the UAE for your office space development. Access pre-qualified contractors in Dubai for office interior fit out services in no time by heading to our online portal.
At Contractors Direct, we allow only pre qualified interior designers and contractors with a valid license, a minimum of two years of experience and portfolios of references that our team have physically visited.
Searching for fit out contractors is super simple on our site- Just fill out a form and click on 'Search.' Our system will narrow down the list of contractors to the best fit for your project. Don't forget to use our fitout cost calculator to help you with your budgeting too!
Don't delay! Discuss your project with us today!

Like what you're reading?
Get fresh monthly tips to start & grow your LLC.